NCAA MX-300 Cubio Bluetooth Speaker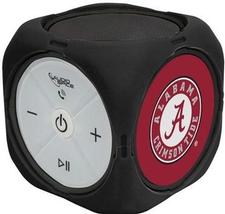 AudioSpice MX-300 Cubio Bluetooth Speaker
Jam out to your favorite tunes on the go with the portable MX-300 Cubio Bluetooth® speaker from AudioSpice. This sleek and durable wireless speaker yields premium sound quality and displays your favorite team logo printed on the side panels. The simple interface makes it easy for you to blast great music while supporting your team. The outer rubber wrap protects the MX-300 Cubio, making it an ideal, portable speaker. Just sync it, set it, hit play, and rock out!
Features
Rich sound and deep bass
Answer calls from the device
Works as a speakerphone
Customizable side panels
Auxillary line-in and line-out function
Charge by USB cable or wall charger
Simple Bluetooth® sync function
Micro USB connector
Additional passive speaker for stunning sound
Long battery life
Specifications
Certified Bluetooth® Product
Rechargeable lithium-ion battery (600mAh)
FCC and CE Certified
RoHS Compliant
Many NCAA Teams Available to Choose From!
Free Shipping Over $75!!!!
NCAA MX-300 Cubio Bluetooth Speaker Price/Availability
Availability:
Usually Ships With-In 24-48 Hours
NCAA MX-300 Cubio Bluetooth Speaker Customer Reviews
More Products Related To The NCAA MX-300 Cubio Bluetooth Speaker You May Be Interested In
More Information About The NCAA MX-300 Cubio Bluetooth Speaker From Golfers Edge Online
Contact Us About The NCAA MX-300 Cubio Bluetooth Speaker