Score Band Pulse Compact Laser Rangefinder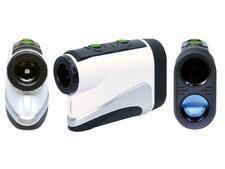 Score Band Pulse Compact Laser Rangefinder
The Scoreband Pulse rangefinder is compact and lightweight with high quality performance for everything you need to score low. Scan mode picks up with closest object so you get your measurements fast in a sleek, practical design.
Features:
400 Yard General Range
250 Yard Range To Flag Accurate +/- 1 Yard
6x Magnification Yard/Meter Measure Option
Crosshair/Flag-Lock Display
Low Battery Indicator
General Mode/Flag-Lock Mode
Auto Shut-Off
CR2 3 volt battery includes
Includes carrying case and lens cloth
Low battery indicator
Weight: 150 grams
Dimensions: 4" x 3" x 1.5"
!!FREE SHIPPING OVER $75.00!!
Score Band Pulse Compact Laser Rangefinder Price/Availability
Availability:
In-Stock Waiting To Ship To You
Score Band Pulse Compact Laser Rangefinder Customer Reviews
More Products Related To The Score Band Pulse Compact Laser Rangefinder You May Be Interested In
More Information About The Score Band Pulse Compact Laser Rangefinder From Golfers Edge Online
Contact Us About The Score Band Pulse Compact Laser Rangefinder