Callaway Golf Hybrid Laser-GPS Rangefinder
Also Known As: Callaway Golf Hybrid Laser-GPS Rangefinder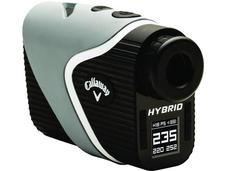 The Callaway Hybrid Rangefinder is the peak of distance-measuring performance; the convenience of a GPS and the power and precision of a laser all rolled into one spectacular product.
Features on the Laser Rangefinder include:
-6X magnification power and a range of 5-1000 Yards
-P.A.T. (Pin Acquisition Technology) - locks on to the pin from up to 300 yds away
-Superior Accuracy (+/- 1 YARD)
-Scan mode, which allows you to acquire multiple targets at once
Features on the GPS include:
-Preloaded with over 30,000 courses worldwide
-Never pay any download or subscription fees
-Provides accurate distances to the front, back, and middle of the green
-Accurate layup distances to hazards and layups
Also included with your purchase is a carry case with carabiner, a sleeve of Chrome Soft golf balls, a divot tool w/ball marker and a 3V Battery dual pack.
!!FREE SHIPPING OVER $75.00!!
Callaway Golf Hybrid Laser-GPS Rangefinder Price/Availability
Availability:
In-Stock Waiting To Ship To You
Our Price:
See Price in Shopping Cart
Callaway Golf Hybrid Laser-GPS Rangefinder Customer Reviews
Another Product Related To The Callaway Golf Hybrid Laser-GPS Rangefinder You May Be Interested In
More Information About The Callaway Golf Hybrid Laser-GPS Rangefinder From Golfers Edge Online
Contact Us About The Callaway Golf Hybrid Laser-GPS Rangefinder