Golf Pride Players Wrap (Black) Putter Grip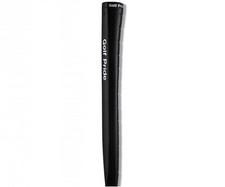 Golf Pride Players Wrap Putter Grip
The Players Wrap putter grip combines style and touch with its smart look and innovative design. The arched-pistol shape pairs a smooth paddle front and a half wrap back in a simulated leather wrap, providing added comfort and touch on the greens. The Players Wrap also maintains well with its smooth and seamless surface that wipes clean for reliable performance.
FEATURES:
Model: GPSP-BLK
Material: Seamless Half Wrap - Black
Core Size: 58 Round
Weight: 76
Outside Diameter: Standard
"FREE SHIPPING OVER $75.00!!"
Golf Pride Players Wrap (Black) Putter Grip Price/Availability
Availability:
Usually Ships With-In 24-48 Hours
Golf Pride Players Wrap (Black) Putter Grip Customer Reviews
More Products Related To The Golf Pride Players Wrap (Black) Putter Grip You May Be Interested In
More Information About The Golf Pride Players Wrap (Black) Putter Grip From Golfers Edge Online
Contact Us About The Golf Pride Players Wrap (Black) Putter Grip