IZZO Golf Range Caddy- (Club Stand)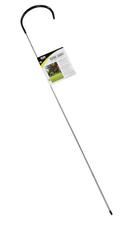 Izzo Range Caddy
Keep your grips dry with the IZZO RANGE CADDY. No more laying your wedges or putter on the ground when around the green.
Features:
Holds clubs while hitting on the range or chipping on the green
Keeps grips off the ground and dry
Fits easily in golf bag
"FREE SHIPPING OVER $75.00!!"
IZZO Golf Range Caddy- (Club Stand) Price/Availability
Availability:
Usually Ships With-In 24-48 Hours
IZZO Golf Range Caddy- (Club Stand) Customer Reviews
More Products Related To The IZZO Golf Range Caddy- (Club Stand) You May Be Interested In
More Information About The IZZO Golf Range Caddy- (Club Stand) From Golfers Edge Online
Contact Us About The IZZO Golf Range Caddy- (Club Stand)