Bionic Men's Performance Grip Golf Glove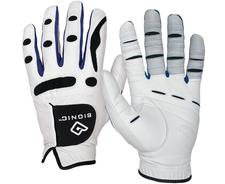 Bionic Performance Grip Golf Glove
Packed with unique features to significantly enhance flexibility, moisture control, comfort and feel.
Enhanced comfort and feel
Elongated 3-D flexion zones stretch more freely, where common natural creases occur in the finger and the palm, to better imitate the flexing motion of the hand. This delivers a better feel on the club and enhanced comfort.
Instant Flexibility
Seams on the side of the finger have been repositioned to a "neutral zone" of motion, so they don't inhibit glove flexibility. This, combined with the extended 3-D flexion zones and the pre-rotated finger design give the glove an instant "broken-in" feel.
Lighter Grip
The Triple-Row Finger Grip System evens out the surface of the hand for a lighter grip to help increase distance and accuracy.
Moisture Management
Breathable leather, Lycra positioned between the fingers, and 15 strategically placed "mini Terrycloth towels" inside the glove help absorb perspiration, keeping hands cool and dry.
Durability
The Triple-Row Finger Grip System and the washable, top-grade Cabretta leather helps create a glove that lasts round after round.
These golf gloves are sold individually, so make sure to order a glove for both the left and right hand if you want a pair.
"FREE SHIPPING OVER $75.00"
Bionic Men's Performance Grip Golf Glove Price/Availability
Availability:
Usually Ships With-In 24-48 Hours
Bionic Men's Performance Grip Golf Glove Customer Reviews
Another Product Related To The Bionic Men's Performance Grip Golf Glove You May Be Interested In
More Information About The Bionic Men's Performance Grip Golf Glove From Golfers Edge Online
Contact Us About The Bionic Men's Performance Grip Golf Glove