Bridgestone Golf J15 Black Oxide Wedges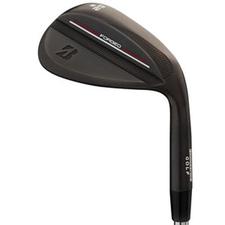 Bridgestone J15 Black Oxide Wedges
J15 Black Oxide wedges from Bridgestone are forged from premium carbon steel and head treated for better feel and durability. The face is machine milled to increase surface roughness to maximize the spin you need to hit better wedge shots. Now you get the added benefit of a black oxide finish to reduce glare.
Bridgestone J15 Black Oxide Wedges feature:
Lofts: 50.0 • 52.0 • 54.0 • 56.0 • 58.0 • 60.0
Bounces: 6.0 • 8.0 • 10.0 • 14.0
Premium forged carbon steel for unmatched feel
Tear drop shape preferred by Tour players
Aggressive U grooves channel dirt and debris away from the face to ensure consistent contact
Enhanced durability through heat treating
Machine milled face increases surface roughness for more spin
Sure Contact Sole ensures consistent contact and turf interaction from all lies
Black oxide finish reduces glare
Shaft: True Temper Dynamic Gold Spinner Steel
Shaft available in Wedge
Available in left and right-hand
!!FREE SHIPPING OVER $75.00!!
Bridgestone Golf J15 Black Oxide Wedges Price/Availability
Availability:
Usually Ships With-In 24-48 Hours
Bridgestone Golf J15 Black Oxide Wedges Customer Reviews
Another Product Related To The Bridgestone Golf J15 Black Oxide Wedges You May Be Interested In
More Information About The Bridgestone Golf J15 Black Oxide Wedges From Golfers Edge Online
Contact Us About The Bridgestone Golf J15 Black Oxide Wedges