Callaway Golf FT Launch Premium Hitting Mat
Also Known As: Callaway Golf Callaway FT Launch Zone Hitting Mat Callaway Golf Callaway FT Launch Zone Hitting Mat (C10240) Callaway Golf Callaway Golf- FT Launch Zone Hitting Mat Callaway Golf IZZO Golf C10240 Callaway FT Launch Zone Mat Callaway Golf FT Launch Premium Hitting Mat Callaway Golf Callaway FT Launch Zone Hitting Mat Callaway Golf Callaway FT Launch Zone Hitting Mat (C10240) Callaway Golf Callaway Golf- FT Launch Zone Hitting Mat Callaway Golf IZZO Golf C10240 Callaway FT Launch Zone Mat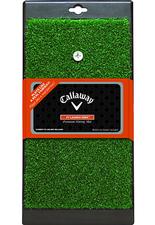 FT Launch Hitting Mat
Practice your drives anywhere with the portable Callaway® FT Launch Zone™ premium hitting mat. Suitable for indoor or outdoor use, it features a true-turf surface that plays like a real fairway, as well as an ultra-durable rubber backing that protects clubs from damage.
Features
True-turf surface simulates hitting from a real fairway
Highly resistant to wear from heavy use
Ultra-durable rubber backing protects clubs from impact scratches and damage
Heavy weight minimizes slide on impact
Indoor/outdoor use
Includes rubber tee holder
Dimensions: L 16" x W 8" x H 1"
"FREE SHIPPING OVER $75.00!!"
Callaway Golf FT Launch Premium Hitting Mat Price/Availability
Availability:
In-Stock Waiting To Ship To You
Callaway Golf FT Launch Premium Hitting Mat Customer Reviews
More Products Related To The Callaway Golf FT Launch Premium Hitting Mat You May Be Interested In
More Information About The Callaway Golf FT Launch Premium Hitting Mat From Golfers Edge Online
Contact Us About The Callaway Golf FT Launch Premium Hitting Mat