Callaway Golf Executive Putting Mat
Also Known As: Callaway Golf Golf Putting Mat Callaway Golf Golf putter Callaway Golf golf training aids Callaway Golf Executive Putting Mat Callaway Golf Golf Putting Mat Callaway Golf Golf putter Callaway Golf golf training aids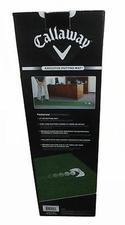 Callaway Executive Putting Mat
The Executive Putting Mat is ideal for practice at home or in the office. The putting mat is high quality woven carpet, bound on all sides-it will not fray. Includes putting cup that is movable for multiple hole positions and angles. A great gift idea for any level of golfer.
FEATURES:
2' x 8' Putting mat
Fine tune putting stroke at home or office
Premium foam backing minimizes folds/creases to promote smoother roll
Includes with and against putting speed
Movable putting cup is 1/4" smaller than regulation to sharpen aim
"FREE SHIPPING OVER $75.00!!"
Callaway Golf Executive Putting Mat Price/Availability
Availability:
Usually Ships With-In 24-48 Hours
Callaway Golf Executive Putting Mat Customer Reviews
Another Product Related To The Callaway Golf Executive Putting Mat You May Be Interested In
More Information About The Callaway Golf Executive Putting Mat From Golfers Edge Online
Contact Us About The Callaway Golf Executive Putting Mat